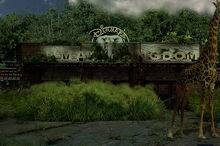 Animal Kingdom is one of the four main theme parks at Walt Disney World. It is animal themed, with its icon being the Tree of Life. How long will it last without humans?
1 Day After People: The power dies and the lights go out. The cars on DINOSAUR, Expedition Everest and Kali River Rapids stop running.
1 Day-6 Months After People: The small animals escape. The large carnivores and herbivores, such as Lion, Tigers, Elephants, and all others, will hold on, but not for long, fortunately, Lions, Tigers, Elephants, Hippos, Rhinos, Antelopes, and other large animals have escaped, exploring their new homes.
10 Years After People: Many of the rides begin to decompose. The Dinosaurs on DINOSAUR are unrecognizable and the yeti on Expedition Everest breaks loose from its support system and falls.
25 Years After People: The pathways around the park are covered in greenery.
35 Years After People: The Tree of Life finally gives in to corrosion, being made out of steel, and caves in. Also, many buildings have collapsed. Expedition Everest has gone green.
100 Years After People: Animal Kingdom floods.
200 years After People: Expedition Everest collapses.
1,000 Years After People Descendants of animals that escaped Disney world have spread to almost all parts of North America.
5,000,000 Years After People: A small meteor strikes parts of Orlando, destroying Disney World.