1 Day: Lights go out around the park. Attractions stop running, and the park descends into darkness.
1 week: Food is beginning to rot on cafe shelves and numerous refrigerators. Some animals such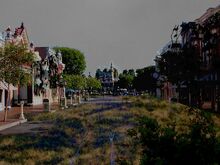 as rats and mice take advantage of food sources.
2 Years: Plants begin to grow around the walkways. Some smaller structures, such as food carts and signs have already fallen.
5 Years: Goofy's House caves in, being made mostly of wood.
10 years: Roughly 99% of the buildings are still in tact. The last of the rotting food is eaten by small rodents.
15 Years: Around the park, the walkways are unrecognizable. Mickey's face in front of the park is overgrown.
20 Years: Small rides, such as: Alice in Wonderland, Gadget's Go-Coaster and The Many Adventures of Winnie the Pooh, to name a few, collapse. Also, much of Toontown falls apart.
25 Years: Most of the animatronic figures in the park are unrecognizable. The Jungle Cruise finally gives in to decay and is no more.
35 Years: The arms on Dumbo fall off, destroying the iconic ride. Also, buildings in Fantasyland are beginning to corrode, and they collapse. Parts of Sleeping Beauty's Castle collapse. .
40 Years: Much of California Adventure is in-tact, but that shall change. The park's iconic California Screaming collapses. What remains of Sleeping Beauty's Castle also caves in.
50 Years: Water rides, such as Pirates of the Caribbean, It's a Small World and Splash Mountain collapse.
75 Years: Space Mountain collapses, as does Main Street USA. For now, the collapses stop.
250 Years: Disneyland is not doing well. A severe California drought has been going on for 200 years. The remaining attractions are now vulnerable to wildfire. The question is: When will one happen?
255 Years: The Haunted Mansion crumbles. Also, Carsland collapses, along with Tomorrowland.
275 Years: California Adventure finally gives in and falls. The Disneyland Hotel also smashes to the desert ground.
300 Years: While most of Disneyland has collapsed, The Matterhorn(Although the track has collapsed long ago), Big Thunder Mountain and Tom Sawyer Island(Although the buildings on the island have collapsed long ago), are the only standing remnants of Disneyland. How long these will last is anyone's guess.
600 Years: A wildfire torches the barren desert that was once Disneyland. Big Thunder Mountain collapses.
800 Years: The Matterhorn is destroyed in a Super 10.0 earthquake.The only thing that remains of Disneyland is Tom Sawyer Island.