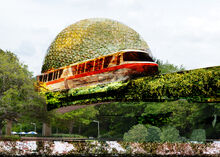 EPCOT is one of the four main parks at Walt Disney World. How long will it last without us?
1 Day: Lights go out around the park and the attractions stop functioning.
6 Months: The fish in the Seas Pavilion have died out.
15 Years: The Land pavilion falls apart due to the plant life inside taking over. The glass in the Seas Pavilion has shattered and the pavilion is flooded.
20 Years: Everything inside of Journey into Imagination has crumbled, leaving the building a ruined shell.
50 Years: Test Track collapses due to vines. Many of the World Showcase lands are in bad shape. The boats on World Showcase Lagoon sink. Spaceship Earth is covered in plant life
70 Years: Much of the World Showcase collapses. The Seas Pavilion is still standing, but barely.
90 Years: Both Nemo and Future World collapse.
150 Years: The Monorail crumbles. The only thing still standing is Spaceship Earth, but for how long?
500 Years: Spaceship Earth collapses. Epcot is no more.
100,000 Years: Orlando is crushed by a meteor
Ad blocker interference detected!
Wikia is a free-to-use site that makes money from advertising. We have a modified experience for viewers using ad blockers

Wikia is not accessible if you've made further modifications. Remove the custom ad blocker rule(s) and the page will load as expected.