The 
Falkirk Wheel
 is a rotating 
boat lift
 in Scotland, connecting the 
Forth and Clyde
with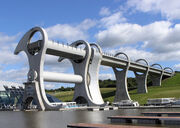 the 
Union Canal
. Named after the nearby town of 
Falkirk
 in central Scotland, the lift opened in 2002, reconnecting the two canals for the first time since the 1930s as part of the
Millennium Link
 project.
The plan to regenerate central Scotland's canals and reconnect Glasgow with Edinburgh was led by British Waterways with support and funding from seven local authorities, the Scottish Enterprise Network, the European Regional Development Fund, and the Millennium Commission. Planners decided early on to create a dramatic 21st-century landmark structure to reconnect the canals, instead of simply recreating the historic lock flight.
The wheel raises boats by 24 metres (79 ft), but the Union Canal is still 11 metres (36 ft) higher than the aqueduct which meets the wheel, and boats must pass through a pair of locks to get between the top of the wheel and the Union Canal. The Falkirk Wheel is the only rotating boat lift of its kind in the world, and one of two boat lifts in the United Kingdom, the other being the Anderton boat lift. But without humans to control it, this boat lift has stopped working. How long can it survive without us?
Life After People
10 years after people:
The Falkirk Wheel's wheel used to raise boats up. Now, it's about to drop down.
50 years after people:
The wheel has been taking heavy rust damage since the canal has started flooding. The wheels that lifted the boats up finally break off the hinges, one by one. This leaves an empty bar and the legs.
100 years after people:
The legs have been weakened by rust due to the canal flooding. Finally, the leg furthest into the canal breaks. Then the next one breaks. The top breaks off, bringing the Falkirk Wheel into the water.
Ad blocker interference detected!
Wikia is a free-to-use site that makes money from advertising. We have a modified experience for viewers using ad blockers

Wikia is not accessible if you've made further modifications. Remove the custom ad blocker rule(s) and the page will load as expected.