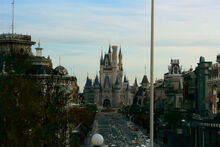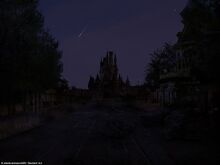 1 Day: Lights go out around the park and attractions stop running as the power grid dies.
5 Months: Food rots away. Animals begin to take shelter in the abandoned rides.
1 year: Plant life begins to coat many surfaces around the park. In the Tiki Room, the birds begin to fall. The stage under the Country Bears is eaten by termites, and it collapses.
10 Years: The pathways around the park are covered in plant life. Many buildings in Toontown are on the verge of collapse
20 Years: Rapunzel's Tower collapses. So do many buildings on Main Street USA
25 Years: Toontown collapses. Monsters Inc. Laugh Floor's screen crashes down and destroys the theater. The Country Bear Playhouse is destroyed.
50 Years: Arm dangling rides such as Dumbo crumble. Water rides such as Splash Mountain, It's a Small World and Pirates of the Caribbean collapse. Much of Tommorowland is gone. Cinderella's Castle implodes.
100 Years: Fantasyland is no more, and the iconic statue of Walt Disney and Mickey Mouse breaks apart.
150 Years: Much of Adventureland burns.
200 Years: The Haunted Mansion collapses. The only remaining structure in the Magic Kingdom is Big Thunder Mountain.
1,000 Years: Big Thunder Mountain caves in. The Magic Kingdom is no more.
5,000 Years: A sinkhole swallows what was once the Magic Kingdom.
10,000 Years: Orlando is crushed by a meteor.