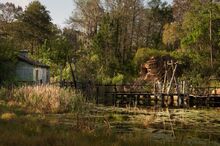 River Country is a water park at Disney World. It closed in 2001, but what if it hadn't? What would happen to it without us?
1 Day
The power dies and the water stops flowing
1 Year
Plants begin to cover surfaces around the park.
20 Years
The rocks around the park begin to decay. The water is filled with algae.
60 Years
The slides begin to fall apart. he Upstream Plunge slides crack and fall into the water.
150 Years
The park is almost unrecognizable. Many of the wooden structures in the water remain.
200 Years
The River Rapids slide is destroyed. Much of the rock work is decayed.
300 Years
While most of Disney World has collapsed, River Country is one of the last remaining structures. It is finally destroyed when the ground under the slides sinks into Bay Lake
Ad blocker interference detected!
Wikia is a free-to-use site that makes money from advertising. We have a modified experience for viewers using ad blockers

Wikia is not accessible if you've made further modifications. Remove the custom ad blocker rule(s) and the page will load as expected.