Transwikiedfrom- http://lifeafterpeople.wikia.com/wiki/Rizal_Monument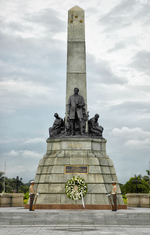 The Rizal Monument is a memorial monument on Rizal Park on Manila, Philippines built to commemorate the Filipino nationalist, José Rizal. The mausoleum consists of a standing bronze sculpture of the martyr, with an obelisk as his backdrop, set on a pedestal upon which his remains are interred. A plaque on the pedestal front reads: "To the memory of José Rizal, patriot and martyr, executed on Bagumbayan Field December 30 1896. This monument is dedicated by the "People of the Philippine Islands".
The perimeter of the monument is in a continuous ritual guarding by the soldiers known as the Kabalyeros de Rizal (Knights of Rizal). About a 100 m (330 ft) west of the monument is the exact location where Rizal was executed represented by life-size dioramas of his final moments. Now that the Knights of Rizal are gone, no one is there to protect the monument from Mother Nature. How long can it last?
500 years:The memorial's plaque dedication to the Philippine hero Jose Rizal rusts due to the tropical weather. It corrodes and the words of a hero are no more.
1000 years: A magnitude 7.2 earthquake strikes Manila and the obelisk is destroyed, even destroyed it's pieces will lie on the ocean floor thanks to it's granite structure. The bronze statues stays intact.
2000 years: Although underwater after the rising sea levels the Rizal Monument remains intact. Thanks to the granite structure of the obelisk and the bronze material of the statues, this monument could last thousands of years.