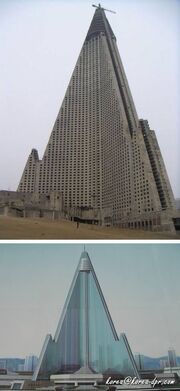 The Ryugyong Hotel is a hotel in North Korea.It woudve been the tallest hotel and 7th tallest building in the world,had not been abandoned before completion.The tower already survived 6 years without maintenance,then construction resumed,and finished.But it has yet to be opened.How long can this tower survive?
1 year after people: The hotel is being covered with growth. The ariel has already broken off,yet it is somehow balancing on top of the tower. All the glass has shattered off.The design includes a rotating 8-floor truncated cone. The system has jammed,and the weight will cause heavy tension on the building.
50 years after people: The hotel is under heavy fire,literally. The cone finally collapses,crushing the hotel beneath.
Ad blocker interference detected!
Wikia is a free-to-use site that makes money from advertising. We have a modified experience for viewers using ad blockers

Wikia is not accessible if you've made further modifications. Remove the custom ad blocker rule(s) and the page will load as expected.