Sandusky Ohio is a city which features the famous Cedar Points Theme Park and is close to were the Ohio Wolfman (Michigan Dogman or Wisconson Werewolf) sightings were reported. What would happen to Sandusky when people are gone?
Life After People
1 Day After People
Cedar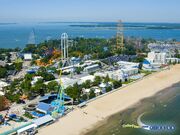 Point's fun is over, for now. Many abondoned pets die of starvation.
2 Weeks After People
Some
wild animals such as deer, bears, cougars, bobcats, lynx, coyotes, foxes, raccoons, wolverines, badgers, weasels, rabbits, mooses, squirrels, wolves, and bison (no longer endangered) have moved into former human cities, towns, farms, and other man-made places that people left behind. The Ohio Wolfman have also moved into former man-made places.
6 Months After People
The famous theme park, Cedar Point, is being destroyed by nature (rain, snow, etc), thus destroying Millennium Force, Magnum XL-200, Top Thrill Dragster, and other steel coasters. The wooden coasters are still standing, but they will soon share a similar fate from a different threat.
2 Years after people
The wooden coasters such as Blue Streak and Mean Streak are being eaten by a destructive pest, insects.
200 Years after people
All of the recongnisable structures in Sansusky are now gone.
10,000 Years after people
Many animals, including the Ohio Wolfman, are no longer endangered by humans, as there are no more humans that almost killed off Ohio Wolfman and other animals to extinction, they now rule America once again.
Ad blocker interference detected!
Wikia is a free-to-use site that makes money from advertising. We have a modified experience for viewers using ad blockers

Wikia is not accessible if you've made further modifications. Remove the custom ad blocker rule(s) and the page will load as expected.