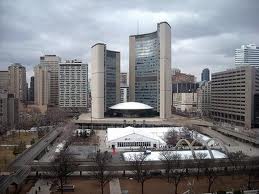 Toronto City Hall is the city hall of Toronto,Canada. The design came from the mind of Viljo Revell in a design competition.It was built to last,but exactly how long will it last without maintenance?
1 year after people: No signs of damage to either of the towers or the domed council chamber beneath.But the arches are taking damage due to their concrete structure being without support.
10 years after people:The arches have taken a huge hit after 10 years without maintanance. Finally, one by one they collapse.
100 years after people:The city hall has taken a huge hit from storms coming across Toronto.Finally, the taller tower collapses onto the shorter tower, shattering the dome of the council chamber below.The one mighty Toronto City Hall collapses into rubble.
Ad blocker interference detected!
Wikia is a free-to-use site that makes money from advertising. We have a modified experience for viewers using ad blockers

Wikia is not accessible if you've made further modifications. Remove the custom ad blocker rule(s) and the page will load as expected.